Falkland Premier 500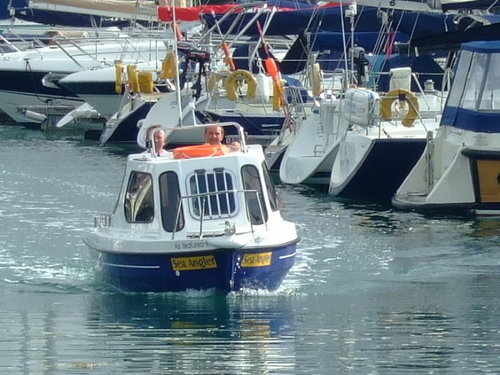 On the water at Mercury Marina , Hamble with a new owner of a Falkland Premier 500.The boat is being delivered to it's moorings !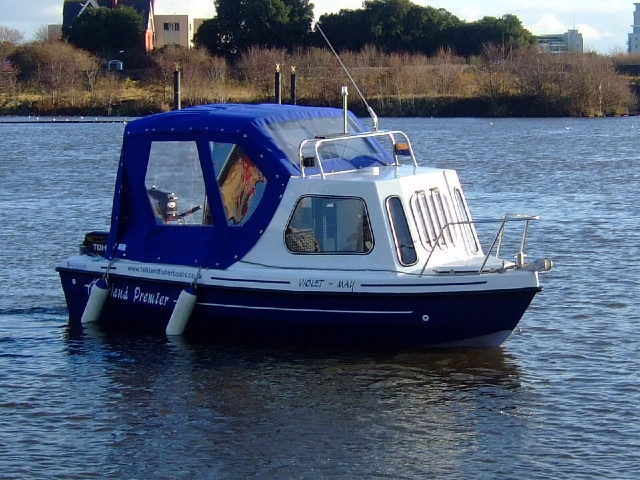 We would like to introduce the
Falkland Premier Day Cruiser .
The same re-knowned sea keeping and performance qualities as the Falkland Fisher 500
but with a little more comfort and class .
Ideal for day cruising on salt or fresh water for all the family and still with loads of space for fishing or just relaxing and unwinding.
This one has a full pram cover which can be reduced to a flying bridge in seconds by simply unzipping !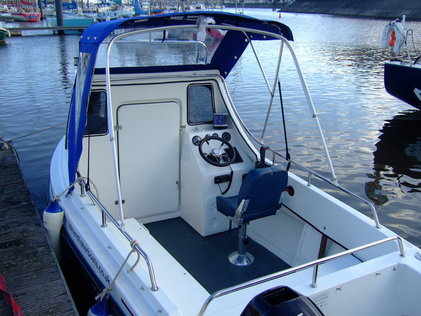 Moored in Cardiff Bay , a Premier 500 with a flybridge. This is a great accessory to really enhance the look and practicality of your boat.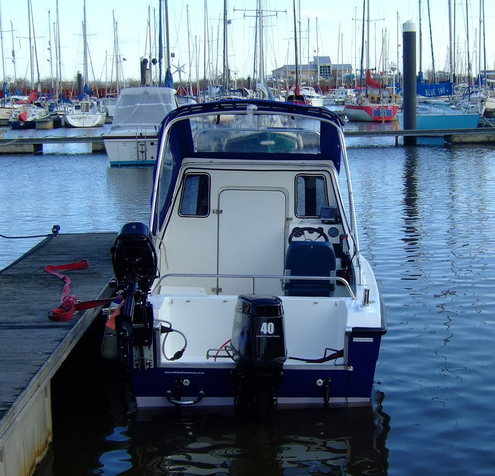 This boat was powered by a Tohatsu 40hp 2 - stroke and pushed it along at approx 20knots ! -ideal !
The spare engine is a 5hp Tohatsu 4-stroke, very quiet and very fuel efficient.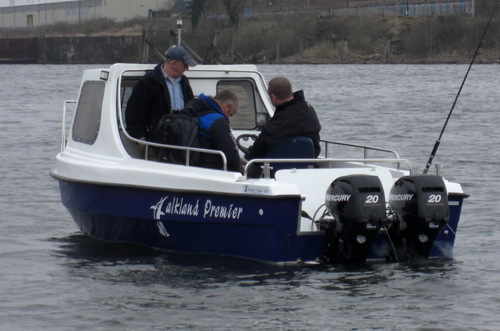 Falkland Premier, without the pram / flybridge cover, with twin 20 hp mercury outboards ,three adults and a load of fishing gear on board !
This boat sit's really high in the water even with twin engines !
The shallow draft is ideal for going into estuaries or canals without fear of grounding !
This also makes the Premier ideal for inland waterways, cruising along rivers and where depth is at a premium, perfect for just relaxing on and unwinding ;
perhaps mooring by one of the many bankside pubs and restaurants to be found throughout the inland waterway system!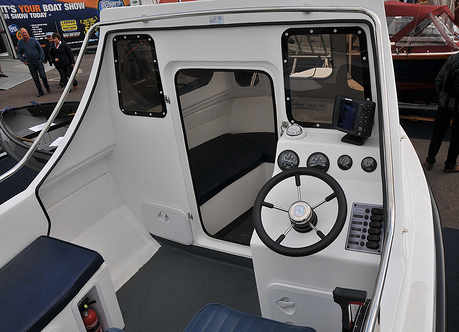 Watertight Lockable Cuddy which can be fully lined if reqd ,with a removeable door .
This, allied with windows in the Baulkhead, gives excellent vision while at the helm and easy access.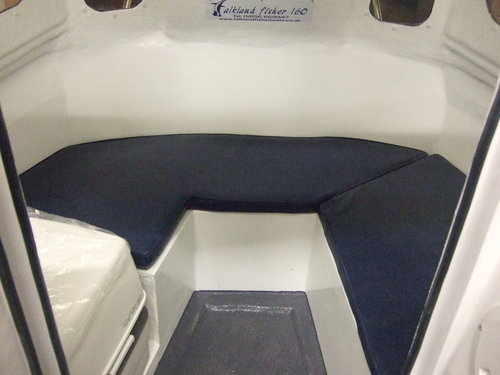 View inside the cuddy .The one piece moulding incorporates a pair of lockable lockers. 1 port and 1 starboard.
The cockpit includes a cushion set as another standard feature.
There is a 12v power point,located behind the console .This is ideal for a kettle, fridge etc !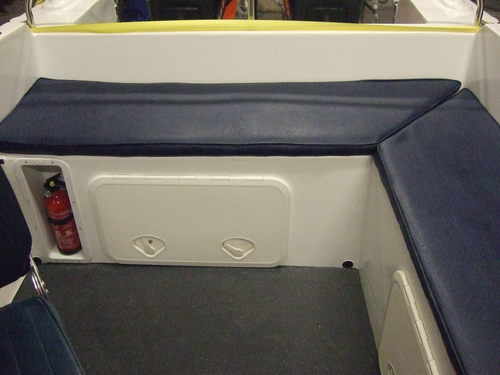 Rear seat and port side seat incorporating two large lockable lockers
and fire extinguisher .
In the rear locker ,
there's plenty of room for your fuel tanks , ropes etc without sacrificing quality storage space .
A fully automated bilge pump is fitted as standard in a purpose built sump as is a non slip floor.

A Removeable Table is a lovely addition and simply enhances what a Falkland Premier is all about.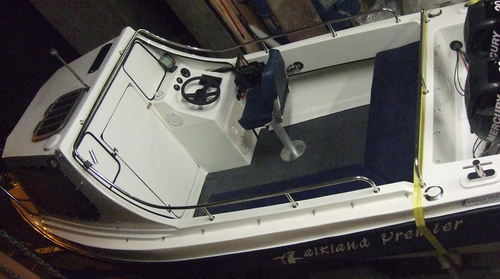 Overhead view of a falkland premier , fitted out to the customers specifications and
requirements and ready for the water .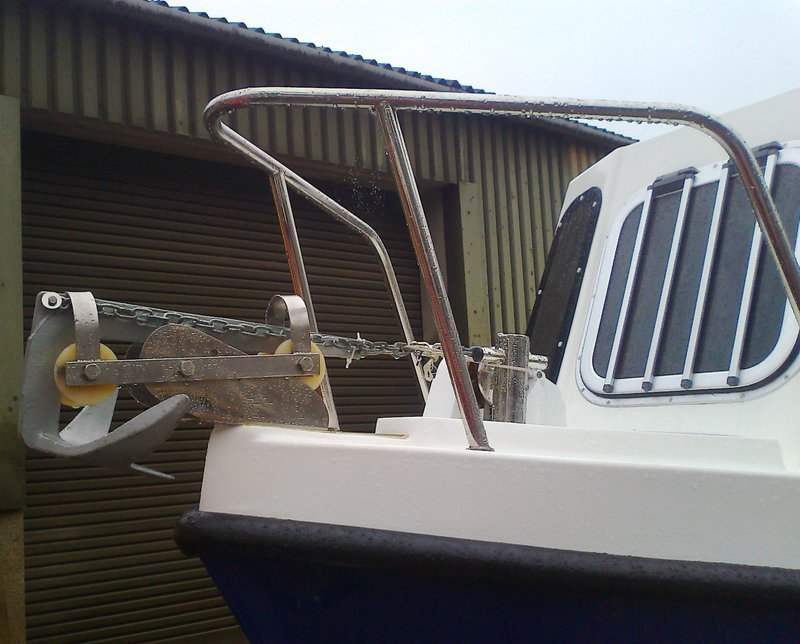 A 12V Anchor Winch is an extra well worth considering !
A Falkland Premier 500 really is a seaworthy boat the whole
family can enjoy !
Weight Ex Trailer & Engine approx 550kg
Boat conforms to CE Category C
GGF Recommends up to a max 60hp longshaft Outboard
or twin 30hp shortshaft Engines
Falkland Premier Day Cruisers come with a 5 yr Hull Structural Warranty.
BOAT £14,990

incl Vat For a Limited Time Only !
Our boats can be customised to suit all your requirements .
This customer required a portable toilet fitted port side and a lined cabin !
Cookers,fridges etc can be added if reqd,